Comprehensive Wealth Management Solutions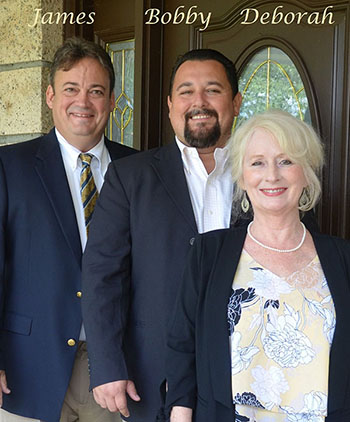 James E Armstrong Jr. CFP®, ChFC
Armstrong Wealth Management is a full service independent financial planning firm specializing in comprehensive planning strategies integrating investment and insurance/risk management solutions to serve the best interests of our clients. As a Certified Financial Planner TM and a Chartered Financial Consultant, James Armstrong holds the designations recognized as the industry gold standard for financial planners. James is also Office of Supervisory Jurisdiction Managing Executive exercising compliance oversight of a large network of independent advisors in offices throughout the Southeast. Having oversight of so many successful financial advisors over the years with diverse methodologies has given James a much broader perspective to better serve his own clients.
Our team consists of James Armstrong and Deborah Barfield working out of our Wake Forest office and Bobby Trujillo located in Wilmington. Both Deborah and Bobby are Registered Principals assisting in supervision as well as serving our clients. Deborah is our office administrator and Bobby is the associate advisor leading our Wilmington office. James is the Chief Investment Officer and leading Supervisory Principal.
Biography
James and his wife, Desiree, are both NC natives. James served in the US Navy for 6 years working on weapon systems electronics until 1990. After working as a technician in the electronics field, he initially pursued Electrical Engineering at NC State before ultimately graduating in Economics to enter the financial services industry. James is a deacon in his church serving in the areas of worship music production and benevolence ministry. He and Desiree have three children, Morgan, Joshua, and Evangeline.
Industry Service
James has served on the board of the Financial Planning Association for Eastern North Carolina as a past president and chairman. He currently serves on the Eastern Region Advisory Panel of his broker dealer, Royal Alliance, helping develop best practices for advisors at the firm.
Social Security is complicated, and the details are often misunderstood even by those who are already receiving benefits.

This article looks at four good reasons why life insurance can be especially helpful in a challenging economy.

Leaving a job? Discover four options that are often available for managing funds in an employer-sponsored retirement plan.

This article explains how the COLA not only helps current beneficiaries, but also may increase future benefits for those who are not yet receiving Social Security payments.
Estimate the annual required distribution from your traditional IRA or former employer's retirement plan after you turn age 73.

What will my net Social Security benefit be?

Estimate the future cost of an item based on today's prices and the rate of inflation you expect.

A balance sheet summarizes your assets and liabilities and reveals your net worth.